Being the ticket maven and willing to fill out the forms and buy the cashiers check (this was before anything could really get purchased over the Internet), I snagged four tickets for The Clifford Ball through the Phish newsletter's mail order. Mapquest was brand new, so I doubt we used it to find the small New York town of Plattsburgh. Had we kept track, we would've seen our 4wd SUV click over 1,000 miles to get to the weekend festival. The event was a wild scene, but totally peaceful and chill. The band drew all types of subcultures to the promise of a good time and some fun music to dance to. When Ryan Randazzo posted about this article, I had a great time trying to recall my feelings and experiences around the weekend. I have a few stories that he didn't use, and may tell them at a later date.

Flashback: Phish's Clifford Ball, August 16-18 1996
A beacon of light in the world of flight
By Ryan Randazzo Jul 16, 2018 (LINK to NYS Music page)
In the summer of 1996 an estimated 70,000 to 85,000 Phish fans drove to a former Air Force Base in Plattsburgh, NY to attend an event that would forever change the landscape of modern music festivals and add yet another dimension to Phish's already polarizing live music experience: The Clifford Ball. Fans camped out from August 16-18 to see Phish performed three sets of music and an encore on each of the two show days, as well as a secret jam, the Flatbed Jam, at 3:30 a.m. on the night of the first show. The audience was four times the size of the county the festival took place in, Clinton County, and for that one weekend Plattsburgh became New York's ninth largest city.
The Clifford Ball was the first festival Phish had ever thrown, and since then they have kept the tradition going with their upcoming festival, Curveball, as their eleventh installment. Going in, fans had no idea what to expect, and most were completely astonished by the experience they had that weekend. In addition to the music, attendants were treated to flights overhead by bombers, gliders, and other aerial vehicles, carnival rides, wandering jugglers, fireworks, a classical violin quartet, a blues quartet, guitar soloists, a choral quintet, a full orchestra, movies in the camping area, a full village built on a hill, a vast array of food and drink vendors, a general store, trampolinists, a aerialist swinging on ropes, and scattered art installments. The carnival vibe filled fans with glee and wonder, and those who attended still say it was one of the most stupendous experiences of their lives. For those interested in watching the festival in its entirety, Phish released a massive seven DVD box set in March 2009. Below is a look back on experiences had at the festival by friends of NYS Music and Phish.net:
Anticipation and Arrival:
John Demeter, Contributor to The Phish Companion, Third Edition: "Oddly enough, we didn't really expect some Dionysian party, beyond what we were accustomed to (see what I did there?). There were literally a million other places we could go camping that are better than a shitty closed airfield in Plattsburgh. We were expecting to hang out during the days, entertain ourselves, and then see Phish outside the construct of a regular venue. The baseline expectation was Sugarbush from the prior year, which was really nothing but rows of tents in the ski area parking lots.
We had no idea what "festival" in that sense meant at the time. We were calling it "the camp out" right up to the show. We didn't even consider that there'd be vending, art installations, gliders, and trampoline skiers and such."
Todd Wimer: "I was beyond stoked when I opened up my mailbox, took out the latest Doniac Schvice, and saw the Clifford Ball announcement. This was how I got Phish news back then, not months in advance via rumor gurus like Attyaloew. Coming off of the New Year's '95 run, with 12/1, 12/15, and 12/31/95 being the most recent shows I had seen, I was obsessed with Phish at the time, so the timing was pretty ideal. My high school crew all felt the same way and it was an understood thing that we'd make it up to the festival no matter what.
[Going in] the enthusiasm everywhere was palpable. Phish felt like this big inside joke at the time, and the festival was astounding in that we all looked around and acknowledged that a lot of people were in on the joke. And that was fine, because I love being around Phish people, so the more the merrier (barring tough-ticket shows and scalpers who have since learned to capitalize on this rabid fandom.) My first few shows in '93 and '94, the crowd was a lot of white-cap collegiate dudebrahs and nerdy guys with glasses who looked like they played D&D. The wook element was there at those shows, but not as present until after Jerry died the previous summer."
Russell Howze: "[My initial] reaction was excitement. I knew it would be large, but it was an incredibly large crowd there. I did not expect the art and creativity that happened when the band was not playing, and was also amazed at how many different subcultures were there for the music/party/scene. I expected a huge police presence (the Grateful Dead's horrible tour/riots/gate crashing were still fresh), but there were only about four mounted, pot-friendly, Texas sheriffs. The gathering of all those people, with no real authority present made for a laid back good time."
Dan Hewins: "I was in Vermont at a friend's house about three hours from Plattsburgh. We (three of us) decided to leave on Thursday about 11 o'clock. We thought we'd beat the traffic by arriving at two and that there should be some people there since the gates opened at noon. Well the surprises began immediately upon entry. There were so many people already there, the lots were filling, and the camping areas were already fully inhabited. The place was booming when we got there so we quickly closed up the car and began moving about the masses. We took a walk to get our bearings and see what we could see. All I could think for a while was, Damn. All this for one band? We explored, danced some by the DJ bus, and explored more."
"I had been seeing Phish for two years at that point (five shows) but wasn't the 'true' fan as many others tried to be. I was there for the party. Really, it could of been a Dave Matthews Band fest and probably would of gone. I don't remember much of the drive there except the closer we got the more we knew we were in the right place. Getting up to the gates there was a huge line to get in, of course, but not like the lines you see today."
The Festival Scene:
Marco Esquandolas*:"The Clifford Ball was also my first show. Honestly one of the biggest memories that sticks out to this day, non-musically speaking, was just the fact that I managed to find everyone I was looking for, in that pre-cell phone era. Near my campsite there was this big corkboard wall where hundreds and hundreds of people had posted things hoping other folks would see their messages and connect. I picked up a paper plate off the ground and wrote a Sharpie message on it telling my best friend where my tent was magically he saw that note amongst all the others and found me. nearly miraculous!"
Mark Larezzo: "I remember it as a giant chaotic mess and total 24 hour party. That and it was CROWDED. I saw the first set on the second day from so far away that the only thing I could make out on the stage was a tiny bright green dot that was Mike."
Russell Howze: "Folks weren't really into wearing the costumes back then, but my friend made me a crazy costume to wear (fish-themed fabric, like a Scottish kilt/sash). I also brought a tuxedo and walked around like I was a butler during one of the daytime sets. The stares and drunken drink orders were priceless. The memory I still love is: While chilling under a shade structure on one of the night set breaks (I think it was during a set break), a guy walked in with a flashlight on a tripod. He set it up, turned it on, checked his focus, and then threw a brilliant hand shadow show up on the shade tent's white-fabric roof. I just had to roll over on my back to watch it, and when he finished, dozens of folks gave him a round of thunderous applause."
Todd Wimer: "There was a big movie screen in the campground that was showing Simpsons episodes. Drum circles. Many many grasshoppers. Mounties. I'll tell you some fun that we didn't have at the campground: the flatbed jam! We were fast asleep and when it passed by, twenty feet away from our tent, we slept right through it. I think there were newspapers being printed daily and circulated on site and we read about the flatbed jam or someone told us about it and we were just confused. 'Whattaya mean? Where was the stage? Was the truck moving?' I thought they were trolling us."
Dan Hewins: "There was a town square replete with Barber Shop, Ball Court, Ball Diner, some kind of chapel, General Store, and a statue of Clifford Ball himself in the center. On the outskirts was an artist area where people were making, building, painting, and creating. There was another building that contained giant asphalt balls. One was about five feet in diameter and some of the others were a bit smaller, but they were all painted like a street. Outside of that building there was a guy standing in front of a huge log about three feet in diameter. He was chopping at it with a hatchet, a tiny hatchet, he was making very slow progress. There was a theme here and if you can guess what it was you win. It was Clifford Ball. Ball was the theme. Artists were sculpting and decorating balls of all types. Inside on of the buildings in the square there were plaques up on the walls with words: orb, sphere, dance, globe, testis, bullet. I got orb, globe, sphere, and dance but I wasn't sure what testis was.
Jim Pollock was in a tent signing art that he had done. There was a special deal, if you were wearing a shirt he designed you got a dollar off a purchase. I bought a three dollar sticker for two bucks. There was a music tent too, there was a saxophone quartet, that's all I remember. There also was a place to 'confess to Phish.' It was attached to the chapel. It was a small room with a mic and a podium that you would sit behind and 'œconfess' in front of a camera. Hmmm. The barber that I mentioned before gives haircuts too. He only cuts one hair though. I found him giving a haircut to a camera crew guy's fuzzy microphone. I chose the hair that he should cut and then presented the cut hair to the guy holding the mic. So basically, Clifford Ball square was cool."
The Music:
Tela Esquandolas*: "Clearly there were so many musical highlights in retrospect. At the time the Phish I knew best was A Live One and the studio albums up to that point, so a good deal of nuance was lost on me at the time, but what I will never forget is the 'Chalkdust Torture' opener. The opening notes sent a wave of goosebumps over my body the roar of the crowd only increased them! I was there! I had finally arrived! this was it! Still to this day if I play that 'Chalkdust' or watch the video of that opener, I get goosebumps: it was the true beginning of my obsession with their music."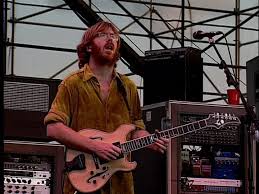 John Demeter: "Seeing Mike's outfit when he took the stage on day two was among the funniest things in the world. The sound was phenomenal. One hundred bigger and better than anything I could imagine. (Having never experienced the wall of sound. Or heard of it at that point, for that matter. But I had been to plenty of other arena and stadium shows. No comparison.) I can still hear the end 'Life On Mars', the perfect articulation of all those notes across the massive field. I didn't even know the song at the time, but the sound system permanently etched it in my memory.
Todd Wimer: "Musically, I remember the opener because my best friend and I were up against the rail and had to wait a long-ass time for them to go on, and the bigness of the 'Chalkdust Torture' opener made it all worthwhile. The band were obviously thrilled and so were we. It was loud, and everyone was unabashedly pumped. I also remember the sort of acoustic set that they played I think the second set of that night, just because that was when we needed to bail from the rail, so we could go piss and get some water and nourishment, and that the timing for that interlude set seemed perfect as we kicked back and had some chicken fingers.
Other highlights were the 2001, the ferocious 'Antelope' with the UVM ski team on trampolines? Or the chick swinging around on the rope? And also, the 'Harpua' encore on the last night. I recall the band being a little bit miffed at something during this, and ever since then my friends and I had assumed it was a miscue. I think the glider with the sparkling trails was supposed to be doing its thing after Trey's narration but had gotten the timing wrong and released the luminescent sky writing early so the very end of the festival was kind of …curious. And my impression was that people who had an absolute blast for the whole weekend weren't thrilled with the ending. We were only slightly confused, but definitely not unappreciative!"
Russell Howze: "'Brother' stood out. Ben and Jerry sang horribly on that one and it was hilarious. The 'Tweezer' circus spectacle was fun. The flatbed truck jam was amazing, and the highlight of the weekend. I still wish I could've kept running along the truck longer than I did (it was a long day and they weren't stopping)."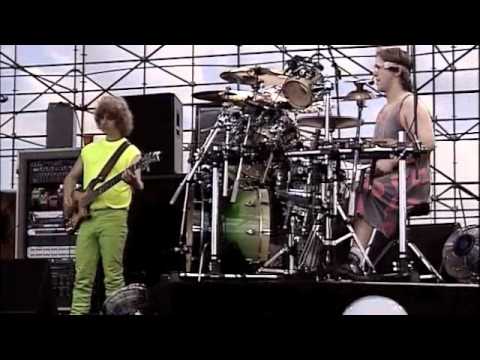 John Lockerby: "The 'Chalkdust Torture' was the perfect way to open the festival. The energy was indescribable. You can see from Trey's face how much fun the band was having. I don't think they knew what they were in for. Whenever I hear the 'Chalkdust' riff I think of Jeff and me running down the runway. I think I was pissed at the encore. Not that 'Amazing Grace' isn't a fun tune, it's just not what I drove all day to see.
We missed the late night set. I guess the truck didn't drive by us. I didn't bring a tent, so I slept in my car. (It was a hatchback though so there was plenty of room for me.) Maybe that's why I missed it.
[The second day was the] best concert of our lives, but once again, we were bummed out by the encore. I mean it was only half the song. Luckily, I didn't know 'Harpua' at the time, so I had no idea what was missing."
Leaving/Final Thoughts:
John Demeter: "The end of the festival was abrupt and very confusing. I fully expected that some massive cosmic energy had manifested over that spot and some great energetic event would occur. But they didn't even finish the song, really. I am still confused.
Leaving was disgusting. An absolute embarrassment of waste trash garbage people ditching perfectly good stuff. Gross. Figured more of us knew approximately what 'leave no trace' meant."
Mark Larezzo: "I remember it being a mess in the camping area and musically amazing. I am thankful I was so young because there is no way I would survive it now. The only other festival I have been to is Magnaball and it was 100 times more civilized but not quite as exhilarating as the Clifford Ball."
Todd Wimer: "I mean, only for a band like Phish can 'making it big' be something beyond selling out Madison Square Garden. Yes, that was amazing. But being a sort of indie band and building a tent city from the ground up by luring 70k people all the way up to Plattsburgh, that was awesome. And we all felt it. One of my lasting takeaways from the Ball was that I forever wondered if and when they would release the video footage of the shows. We saw the camera crew on stage for the whole weekend and kept speculating about why they were filming it. Years later (15?) when they announced the 5.1 mix and the DVD set I was almost as excited as when I first heard about the festival.
I saw three festivals during 1.0 and two so far during 3.0 (Can't wait for Curveball!) I lump together the '97 and '98 festivals, I guess because they were held at the same spot; and I do the same with the two previous Watkins fests. But The Clifford Ball was its own thing, and stands out for being so huge, timed perfectly, 100% FOR the fans, and very positive. And now that I read that back, I think those positives apply to '11 and '15 as well, but in '96 we didn't know what to expect or that it would be as special as it was."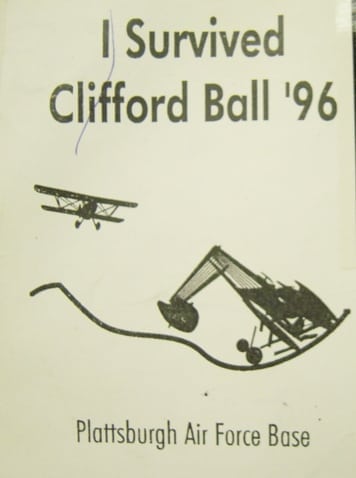 Russell Howze: "Looking back, the Clifford Ball was a fun event. Compared to the disastrous Coventry (the only other festival I've attended), it was a perfect slice of rock n roll heaven. Being at the first Phish festival means to me that I really don't have to go to another Phish festival. I left CB exhausted, but it was worth the effort."
Nala C. Egapal: "The atmosphere was so incredibly warm and welcoming. I recall such a large amount of vehicles but I feel like traffic (getting in and out) was not a problem. One of my biggest memories was watching Trey on the screen almost lost staring at the 'Mr. Sausage' booth and those words coming out: 'Mr. Sausage' I had never been to a festival before, but this opened my eyes to how awesome they could be. There was so much to explore, people on shakedown, the giant art pieces, people getting lost within themselves playing devil sticks, etc. The weather was hot and clear from what I remember, and nights were perfect. I did not see the set the band played on the flatbed trailer but remember hearing about it the next day. My favorite set was definitely set 1 just because of the energy level, my but favorite song was either 'Makisupa Policeman' or 'Chalkdust Torture.' One cannot forget Ben and Jerry singing."
Darren Barcomb: "I had seen the Grateful Dead in 1994 and 1995 in Highgate, Vermont, and can say that the Clifford Ball definitely established Phish as the premier festival group in the post-Grateful Dead era. The Plattsburgh airbase was a perfect spot for a 70,000+ person weekend performance but I do recall issues with heavy traffic and high demand for food/water. Overall, it was a well received show by those in attendance and is still discussed in Plattsburgh routinely 22 years later. I'm not sure if the local community loved the event, but those in attendance enjoyed a historic weekend."
*not their real name, obviously