Fifty years later, I can incredulously ask:
What were MAD magazine's publisher Bill Gaines and editor Al Feldstein thinking when they decided to publish the magazine's ultimate bonus-filled book "The Ridiculously Expensive MAD" (1969; World Publishing Company)!? For a mere $9.95 ($68.56 in 2019 dollars), Gaines and Feldstein offered a hardback book that included black and white reprinted material, three fold-ins, full color covers, and the now infamous six inserts pulled from MAD's 1960s-era "Worst From" and "Follies" specials. Included on the dust jacket was the classic composition book gag for the discerning student trying to get their yucks on during school hours. Gaines and Feldstein only gave the book a first edition, so no reprints or second editions exist. To use obvious adjectives, it was a mad, ridiculous idea to publish a book like this for the thousands of snot-nosed boys that read the monthly issues.
To add to this Silver Age book's now hard-to-find-perfect reputation, the instructions for Bob Clarke's Mad Mobile (from MAD Follies #4 (1966) and found on p. 208 of the hardback) must have been accidentally left out. How do we know this? The publishers had to print a sheet (flyer or broadsheet) of the instructions and insert them into the book. Most of the copies for sale online do not have this loose piece of paper. Many do not even have dust jackets. Some have all the inserts, but they may not be attached or partially used. This book has many parts, making it a treasure to find in good shape.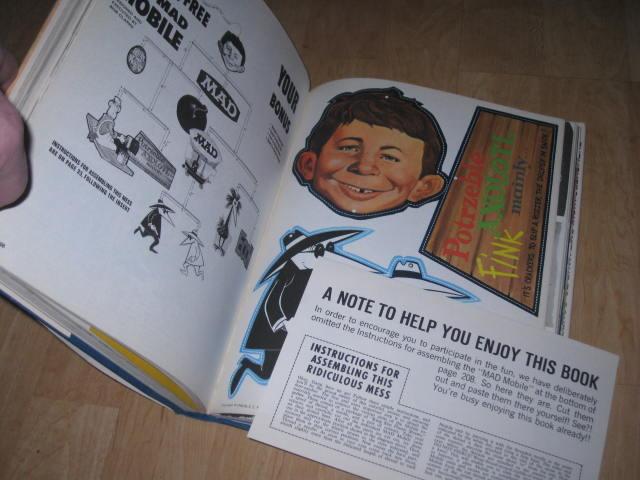 Our Adventure Begins
During my almost two-years of researching The Ridiculously Expensive MAD (REM), I have looked at a copy in my local library, sought and bought a near-fine copy, and continued to track the copies that get posted on websites like Ebay, Heritage Actions, and AbeBooks. I can blame my MAD email-pal Kevin for getting me hooked on the collectible and frustrating REM. Thanks for the favor, ya bum!
This MAD book is one of the more collectible ones. Finding a Near-Mint copy is practically impossible, even though Heritage currently has one on offer from a seller that may have already sold a few times since 2004. This unread copy is a Bill Gaines pedigree copy still in its original cellophane wrapper! That's insane. The San Francisco Public Library has one of the largest humor collections in the United States (who knew!?), and the Schmulowitz Collection of Wit and Humor has a copy of The REM. When I found out it was in-library use only, I literally cut work to go look at their copy. I gave the humor librarian my ID and she brought it out of the archives. I couldn't take the copy of The REM out of the room. Though not unused like the Gaines pedigree copy, the library copy was almost completely intact. It gave me a chance to flip through and take notes about the contents. Why would I do that? Any hardcore collector would want to know everything about an item before buying it. After only a week on EBay, many people selling copies of REM had no idea what was supposed to be inside. Posts said "has all contents" but gave no proof. Emails to sellers didn't work since I didn't know what all the contents were. Doug Gilford's Mad Cover Site has REM's table of contents extensively hyperlinked but still didn't give all the details. I think he's updated his page since to add more info since this page is probably the only place to dig into the insides of REM.
Which Brings Me to a Quick Aside
I'm writing this post because Kevin in Arizona made me! Just kidding. I'm putting my information and experience on here, because REM is a complex publication that the auction and seller sites can give deceiving information about their copies up for sale. Sure it is seriously "caveat emptor" out there online, but the Internet should also have some information on how to geek out in a fun way and enhance your awesome MAD magazine collection. This is why I'm writing this post.
Let's Get Back to the Chase
The SF Library's copy opened me up to the book's amazing contents and inspired me to try to find as decent a copy as possible. The library copy of REM was not perfect. There was a resale pencil mark on the cover for $40. The dust jacket had a cut corner, showing that it was a liquidated copy. The dust jacket's paper quality was low and the acidic nature of wood pulp had stained the endpapers glued to the boards (cover stock).
Most of the inserts were attached, which got me excited. The stickers on p.32 showed a hole where one went missing. I fantasized that an earlier viewer took that sticker as a souvenir. The record was attached on p. 80.5. The book covers (8 total, on 3 pages, with one page uncut) were intact on p. 128. I found the bumper sticker on p. 160.5. The prized and often missing mobile broadside insert was included with this copy of REM, and the mobile itself was on p. 208. I have read accounts that the broadside is perforated, but can confirm it IS NOT. Finally, I looked at the stencils on p. 240 and only a few of the throw-away pieces within the cut out parts had come loose.
The observations continued. Jaffee's three fold-ins (pp. 45, 85, and 245) were unfolded. The boards and case cloth looked great. Beyond the cutout price on the dust jacket, it was in great shape as well.
After reading the last three paragraphs, one can imagine why a few photos and a few sentences stating "in great shape" are inadequate for someone about to drop serious money on a copy of REM. Not knowing this at first, I continued to look at the copies posted on EBay, but turned to Heritage and AbeBooks to drop the serious questions with the serious sellers. I first got hung up on trying to buy a NM copy on Heritage. I was sorely outbid for the pristine copy that needed no photos or descriptions to confirm. Heritage appears to stand behind their items quality descriptions and always include high-resolution photos of the dust jacket and outside of the book.
I then turned to the serious sellers on AbeBooks. My first attempt to buy a copy that had a basic description and more than a few photos didn't go too well. The "complete" copy turned out to have detached stickers, a loose record, and reseller pencil markings. The second attempt was a winner! The seller was in New England and answered my huge list of questions. He also sent extra photos to me to show the complete parts of the book. For those courageous enough to buy your own copy, here are the questions):
Is there damage on the dust jacket? Is a Mylar protective cover included?
Are the glued endpapers stained by dust jacket (answer is almost always yes)?
Are the fold-ins NOT folded in?
Are all six inserts attached?
Are all stickers present, attached and not stuck together?
Are all eight book covers intact and attached?
Is the broadside/flyer for the mobile inserted in the book?
Are the mobile parts all intact and not loose?
Are all the stencil throw-away cut-out parts still intact?
What do the boards and cover cloth look like?
Though I wasn't happy with the quality of the dust jacket (thanks, Bill Gaines, for using low-quality paper), all the inserts (including the broadside/flyer) were present, full, and intact. The stencil parts were loose in a few places, but I had a great copy of REM that I could buy. I dropped $300 for it in June 2018. Don't worry, I've been selling my collection over the past five years to fund the few new items I've decided to presently collect. It didn't force me to eat ramen to make rent.
Once I got the book, I got some acid-free paper (basically high-end, watermarked linen stationary) and inserted them in places where the different types of papers touch. That took about a dozen pages of stationary. The dust jacket and end papers are the obvious example of paper that doesn't chemically react well over the years, but I didn't want to see if the other different papers do the same. The copy came with a Mylar dust jacket cover which is a necessity for more expensive collectible books. I also eventually bought an acid-free box to put it in so it would not degrade with direct sunlight. For fun, I printed out color copies of the front dust jacket cover and spine text and taped it on the box. Not satisfied with the torn dust jacket, I kept looking online to see if a cover would ever show up. It hasn't. Instead, I have continued to see sellers trying to move low-quality copies of REM for big bucks.
Are You Now Hooked…
… into seeking out and buying your very own copy of The Ridiculously Expensive MAD? If necessary, please copy/paste the above Questions to send to the seller. Make sure to also include page numbers and information from those three Paragraphs describing the SF Library copy. You can even send this post's hyperlink to the book dealer if you wish. Finally, you should also get to know book-collecting terms (end papers, boards, dust jacket, broadside, grading terms, etc.). I use a few sites, but the Biblio glossary of terms is a great start. AbeBooks also has a nice glossary.
Certain scenarios to think about are: See an item for sale with a few photos and no description? Then send them the Questions and Paragraphs above. Does the seller have no idea how to answer these questions? Do they give you pithy replies? Move on! Simple descriptions like "complete", "very good condition", "a very nice copy", etc. (I just looked at ONE copy for sale on EBay to pull those useless quotes) are not adequate. Send the Questions and Paragraphs. Many of the copies that get put up for sale on EBay have at least one photo. You can see how collectible the better-quality versions are by seeing the trashed versions for sale on EBay.  Check them out to learn and get more excited about finding that copy that meets your price and quality levels.
Many listings do not have any photos. Some just show the cover and/or cloth boards. Ask for photo proof showing all the inserts. My first attempt to buy on AbeBooks made the seller take a photo of the stickers to prove they were complete. He then had to admit that the stickers were detached and sent the photo anyway. AbeBooks tends to not have photos and the sellers use cut/paste descriptions for REM. Prices vary greatly. I'm looking at one copy on AbeBooks now for a CHEAP $1,363.75. This copy's listing shows five photos of the outside (for book collectors, dust jacket quality is very important in final price of item), but the listing has a pithy three-sentence description. SEND THOSE QUESTIONS! For that much money, the seller should answer them all in great detail. And you may find out that price doesn't mean all inserts attached.
Send Comments
Do you have your own story about finding that great copy of The REM? Please share! I'll curate the comments for this post, but will gladly approve any replies that help other collectors with their fun searches. Since I poked fun at him in this post, I let Kevin read a pre-post draft. I have revised a few things that he suggested, and added this one interesting comment: Are sellers using the fact that the title of the book has the word "Expensive" in it as a way to post up low-quality copies of this book at too-high prices? Would high-grade copies of this book be as rare a find if it was titled "MAD Garbage"? Great (conspiracy) theories, Kevin! He does admit that this first edition book is a great collectible, because it has "so many bonuses!" I agree. All ribbing aside, from serious collectors, come serious ideas about how a seller thinks.
The Final Word
The Ridiculously Expensive MAD it is a cool book to add to your collection. Where in the MAD universe can a collector find one hardback book with full-color pages, fold-ins, covers, and six 1960s-era bonuses? Doug Gilford has an 11-minute YouTube video where he flips through The REM (he has a nice copy). The video doesn't show all the details I mentioned above, but it is a tempting visual that shows how cool this book is.
Good copies can be hard to come by, but for the patient and thorough collector, there may be one waiting for you in the near future. Hopefully your future copy's price won't force you to eat ramen to pay rent. Fifty years ago, this Silver Age book offered good, clean fun for the whole gang. One new millennium later, the fun can still be had, just like Bill and Al visualized it. They'd probably laugh at the fact that The REM is even more ridiculously expensive than they could imagine.
DC and modern publishing houses haven't caught on to the fact that people would pay for a 2019 reprint of The Ridiculously Expensive MAD. Maybe an executive somewhere will try to get this done for MAD's 70th anniversary in 2022, but I'm not counting on it [2022 UPDATE: DC didn't!]. For now, save your lunch money and lawn-mowing profits, put your pennies in a jar, and start your new collecting adventure. You've taken the first step by reading this far. The rest, as they say, is POIUYT!